About Fagron AcneTest
AcneTest provides personalized Acne treatment recommendations to achieve optimal results, by combining genetic data with relevant patient anamnesis through an advanced algorithm. The results help dermatologists personalize acne therapies, considering predisposition to acne-related lesions and the response to pharmacological treatment.
What does AcneTest analyse?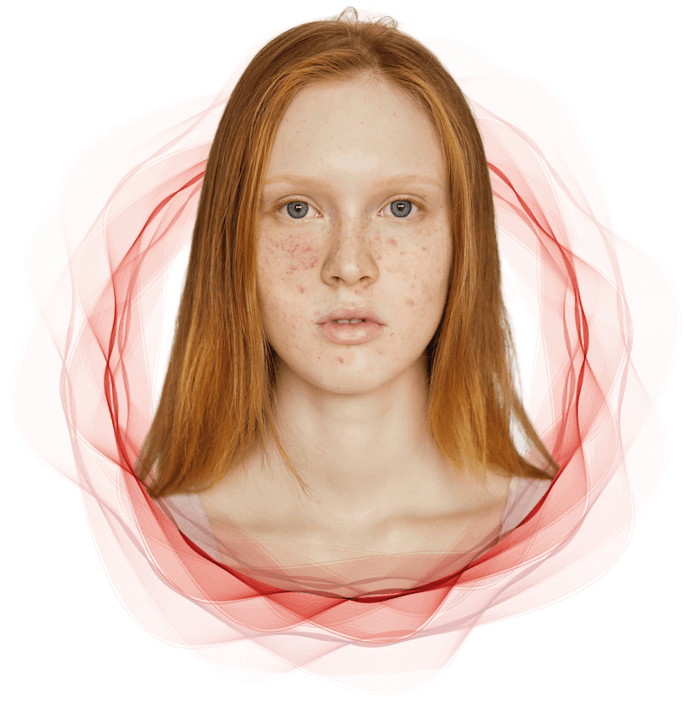 180 genetic variations
associated with 5 main categories of treatment options for acne
Acne predisposition
Skin condition and inflammation
Nutritional approach
Pharmacogenetics
Hormonal approach
Combines the analysis of 60 single nucleotide polymorphisms
associated with metabolic and biochemical mechanisms involved in the development of acne and its consequences as well as in the response to treatment
Allows understanding patient's predisposition to acne, the severity of the acne presentation, and the predisposition to other factors, such as nutritional and hormonal, that might influence acne pathogenesis, as well as aids in modulating the dose of drugs used in the treatment. The information yielded allows for beginning proper treatment at an early time, thus reducing the risk of further consequences.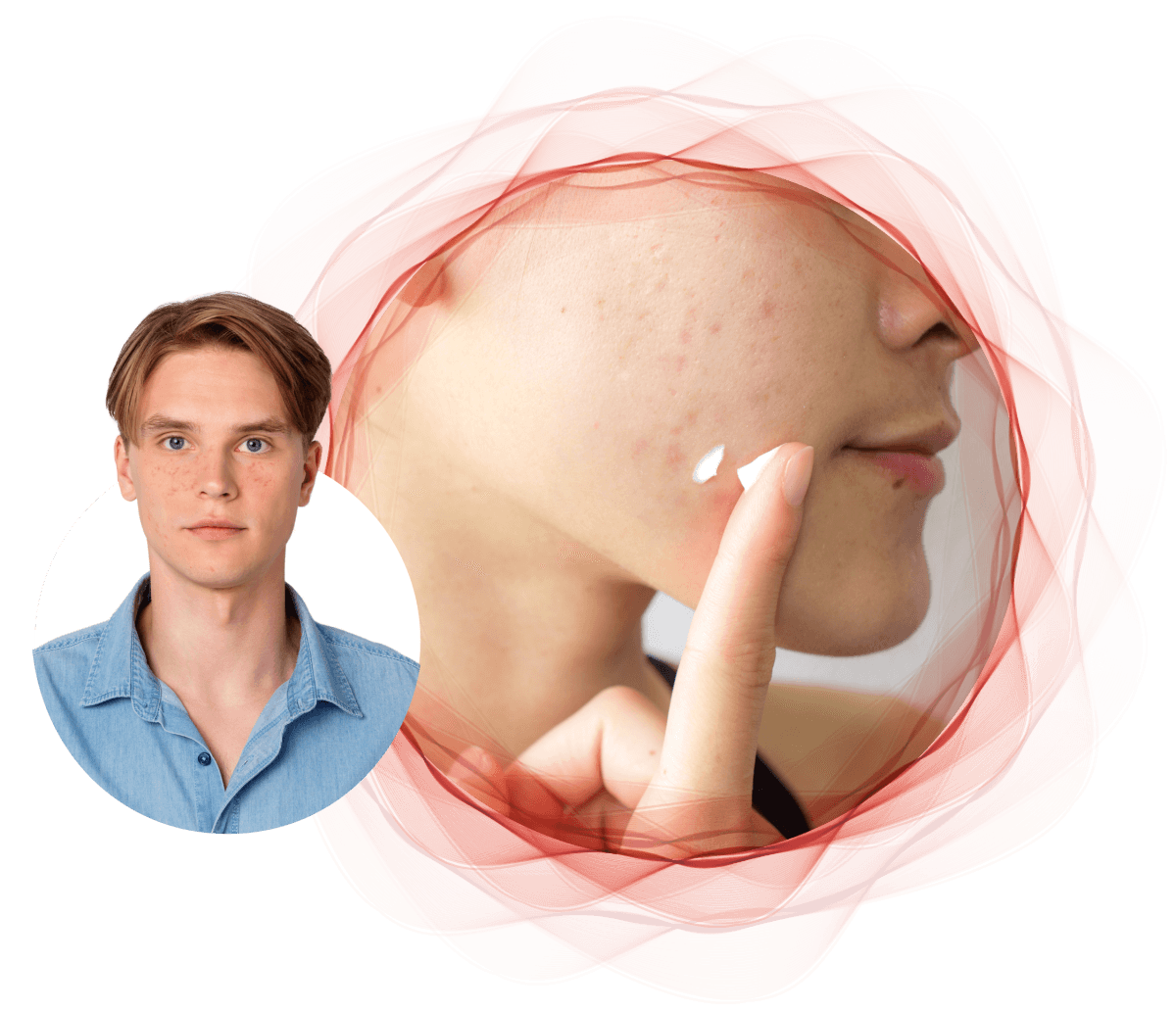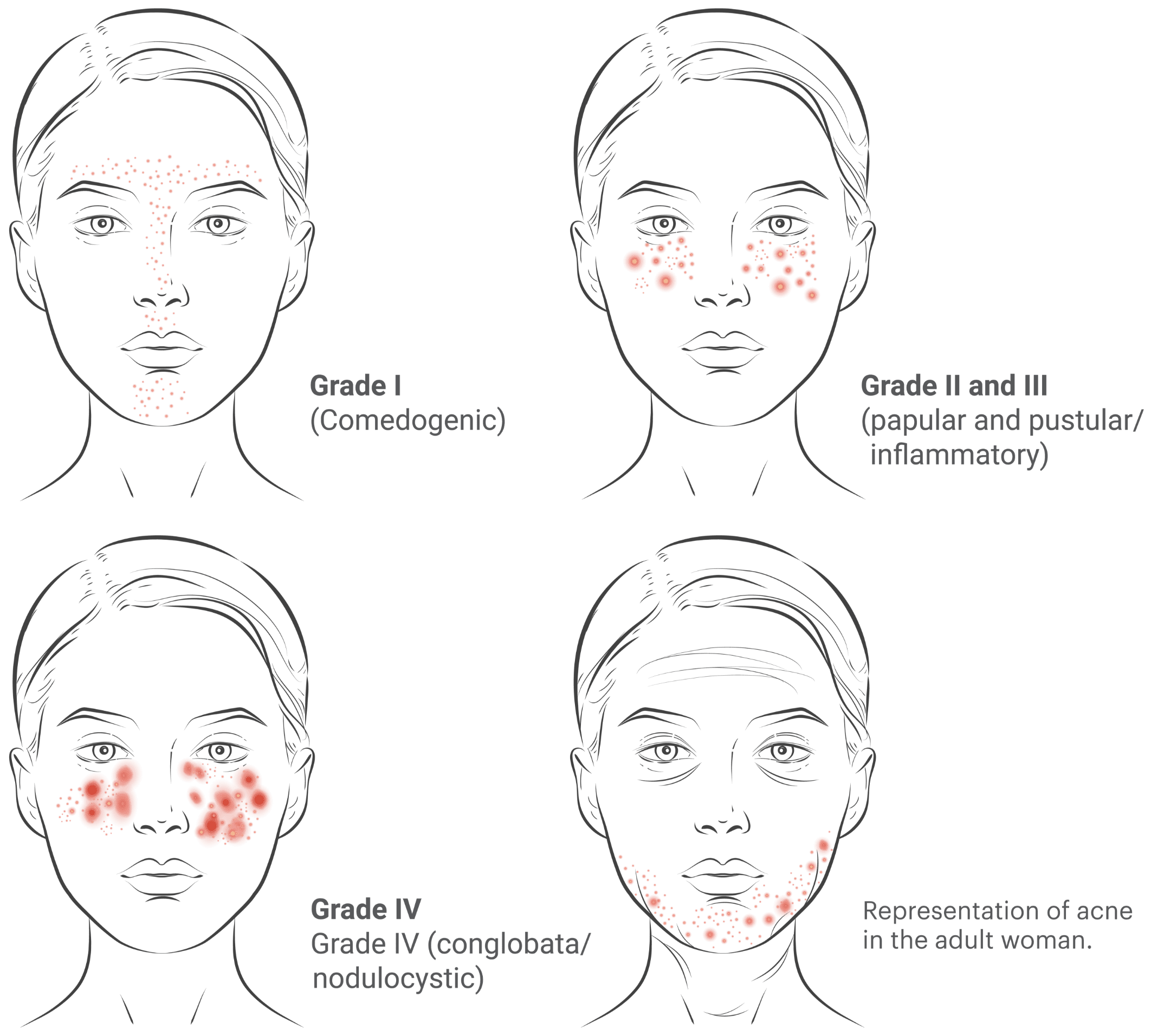 Acne grading and several other clinical factors that influence treatment are considered through a comprehensive questionnaire
The test report relies on genetic variants associated with the individual propensity to acne and its sequelae. Additionally, a clinical questionnaire developed and validated by world-renowned dermatologists considers anamnesis data in deciding the ideal medication for each patient.
AcneTest offers
AcneTest DNA collection sample kit
Buccal DNA collection kit with instructions, from how to do the test to how to get the results online.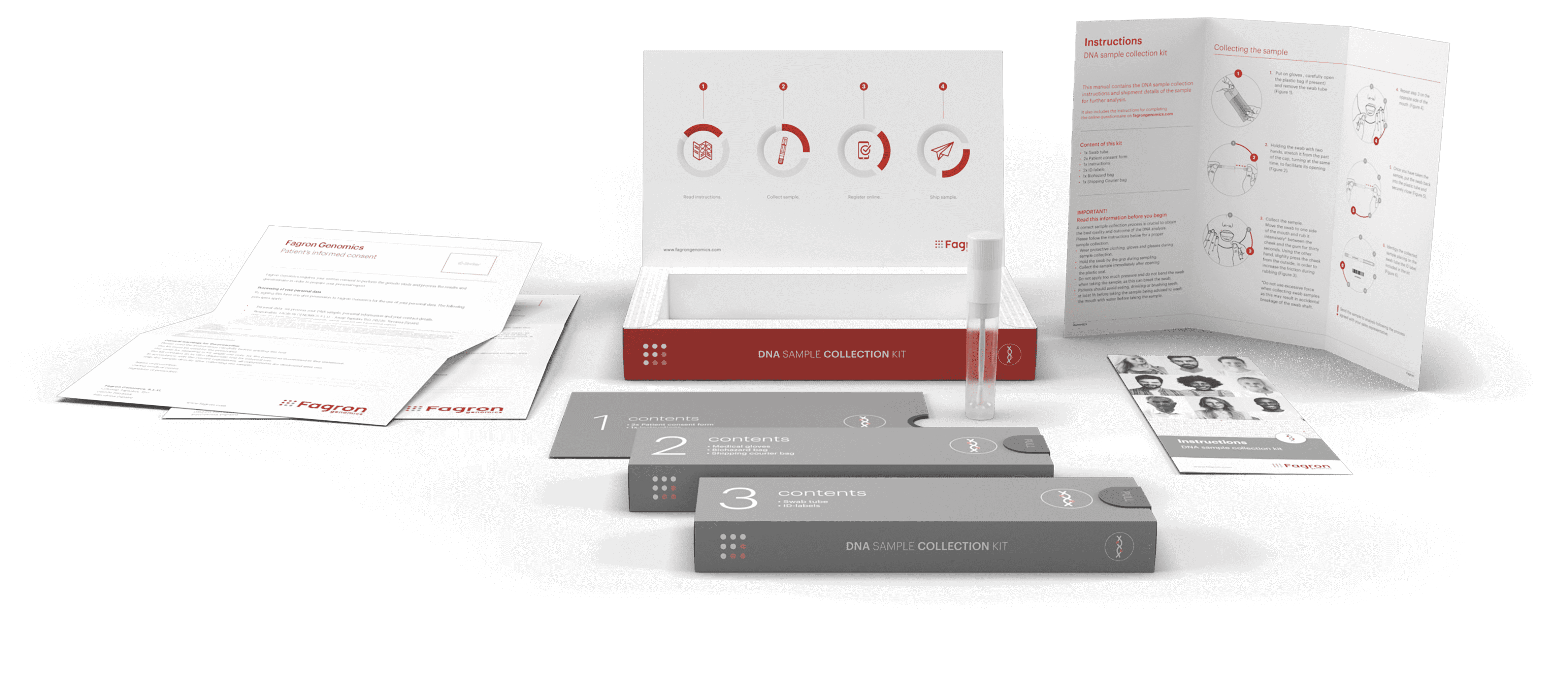 Personalized report
through secure online platform
Fagron AcneTest uses a complex algorithm that combines genetic data from 60 SNPs with relevant patient history collected through a questionnaire. It provides comprehensive genetic data related to acne susceptibility and treatment with personalized formulations.
The results are downloaded directly from our secure online platform, accessible through your secure and private account.
Detailed patient genetic report

Drug efficacy panel
Generated by an automated qualitative pharmacogenetic algorithm that analyzes genetic data and relevant patient history to recommend the most appropriate active ingredients. A color scale lists the drugs recommended by the algorithm. Medications blocked due to intolerances or contraindications are shown in red.
Personalized formulation with suitable active ingredients and doses
Suggests the most appropriate and safe active ingredients and dosages (oral, topical) for the patient.
Summary of genetic analysis
Genetics and clinical results are combined into categories, predisposition to acne, skin condition and inflammation, predisposition to hormone-related acne and nutrition, to improve the understanding of the patient acne presentation and guide treatment.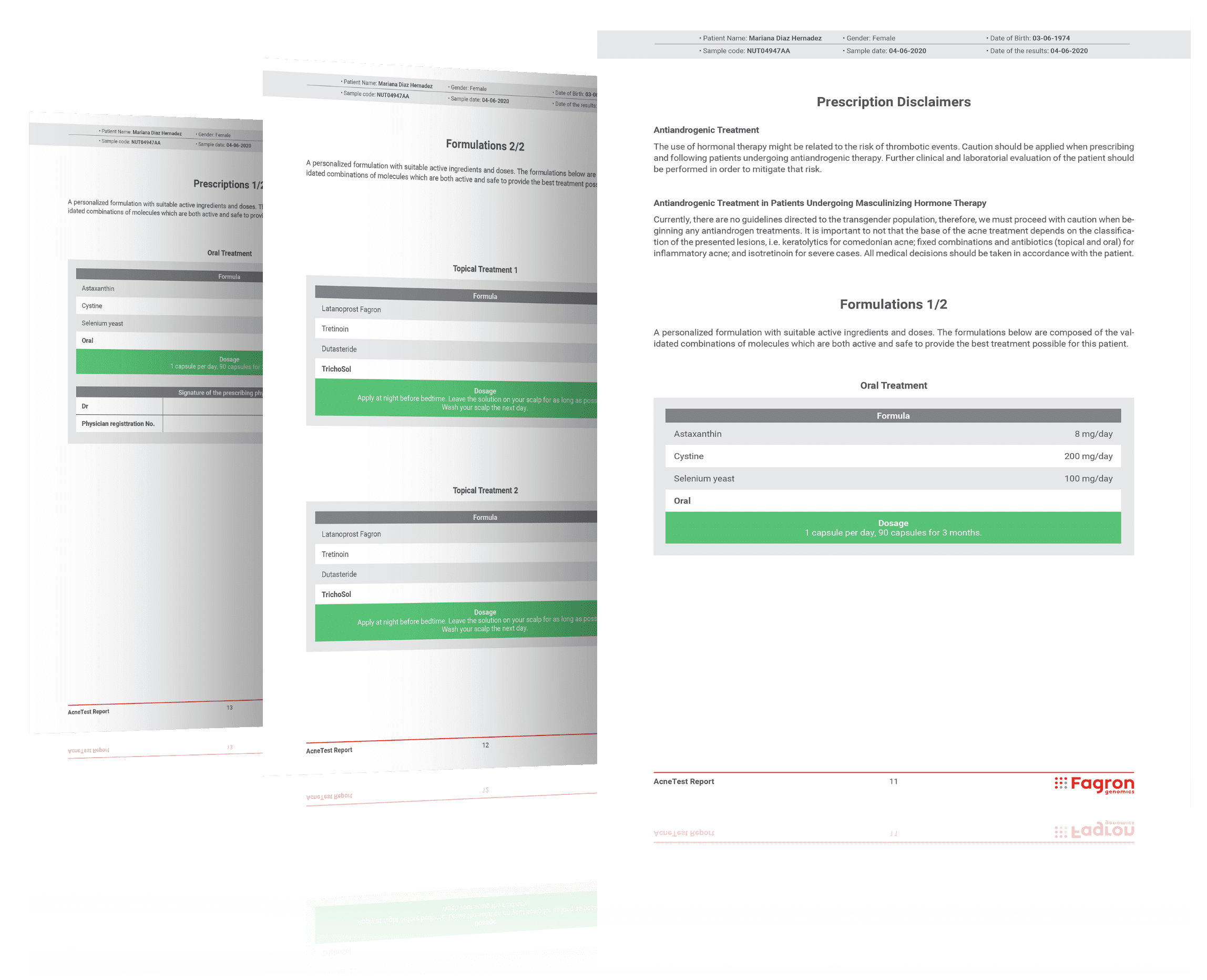 Personalized treatment and formulas
Personalized prescriptions to reach the right treatment at the right time to achieve optimal results, avoiding the need for lengthy and costly treatments.
Privacy and Security
Interactive, Private and Secure Digital Health Platform for practitioners, where patient data is safe and where individual reports can be accessed from a secure personal area.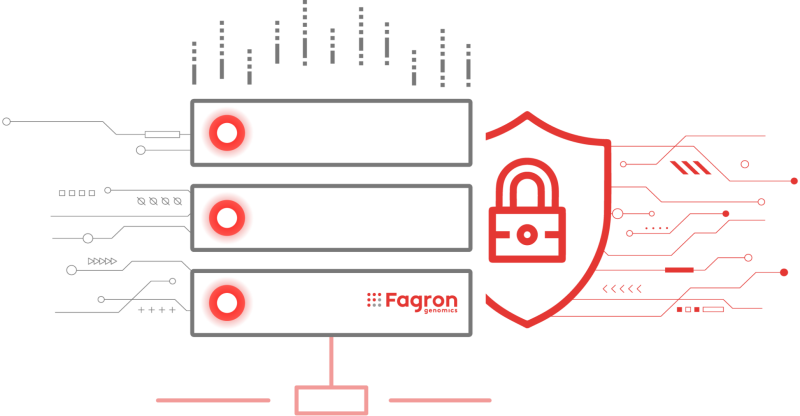 Acne optimal treatment in 4 steps

1. Order kit
By email at info@fagrongenomics.com or directly on our platform.

2. DNA Collection
Through a simple and convenient mouth swab and register the patient on our digital platform.

3. Send sample
To the Fagron Genomics Laboratory.

4. Results
Once the samples have been analyzed in the laboratory, the results will be available on our digital platform in 17 different languages, in PDF and interactive versions.
AcneTest downloads
Download a demo AcneTest report or the AcneTest brochure.